The transition to net zero for Energy Intensive Industries
On Thursday 27th June 2021, the All-Party Parliamentary Manufacturing Group hosted a roundtable on the Energy Intensive Industries and their transition to net zero, in collaboration with the Energy Intensive User Groups. The session was chaired by Jack Dromey MP, Chair of the APMG.
We were delighted to be joined by Lord Gerry Grimstone, Joint Minister for Investment at BEIS and the Department for International Trade, who spoke about government's commitment to supporting the Energy Intensive Industries (EIIs) and their recognition of the fact that energy costs are simply uncompetitive for the sector in comparison to their EU counterparts.
Andrew Large, Chair of the Energy Intensive User Group and Director General of the Confederation of Paper Industries outlined the key challenges for the sector. Citing the current state of energy pricing in the UK in comparison to EU counterparts, he called for a tripartite approach to energy pricing policy in order to support the EIIs transition to net zero.
Bruce Adderley, Challenge Director for Transforming Foundation Industries at Innovate UK discussed the need EIIs to remain ahead of the demand curve and detailed the work UKRI has done to support innovation in the sector.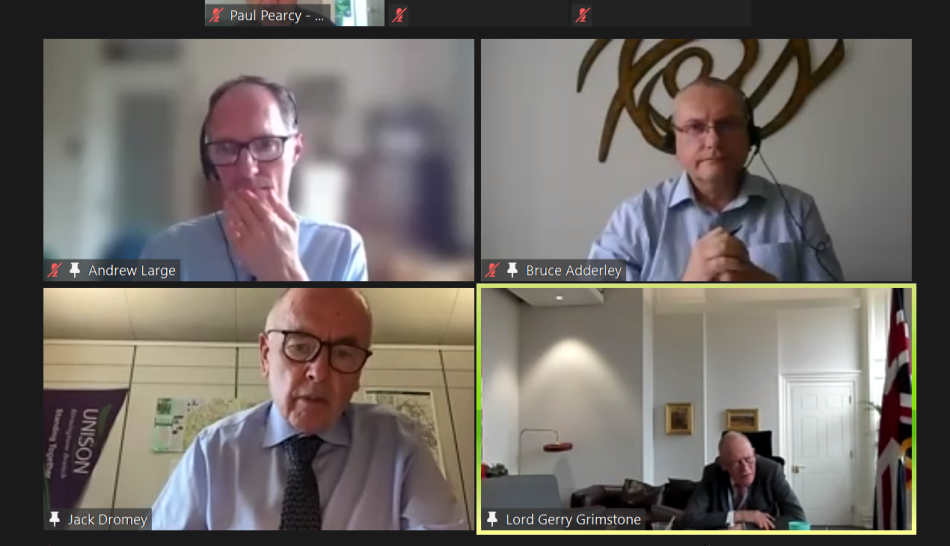 The group then discussed key areas for improvement including:
Even distribution of funding and consideration for energy intensive businesses not in industrial clusters.

The importance of reviewing why and how energy costs in the UK are so high

How cumulative direct and indirect costs could be levied to increase the competitiveness of Energy intensive industries

The challenges of investment and carbon leakage across the UK supply chain
The APMG will be continuing to develop the programme of work for the last three roundtables covering: Technology and innovation's role in the transition to net zero; Ensuring the competitiveness of EIIs; Creating long term sustainable policy.
Many thanks to the minister and his team for attending the roundtable as well as to our speakers and chair for facilitating and important and useful discussion. You can stay up to date on the APMG programme here. A detailed of this event will follow shortly, for more information please contact our Head of Industry, Technology and Innovation Floriane.fidegnon [at] policyconnect.org.uk .