The Future of Medicine? Policymakers debate Cell and Gene Therapy in Policy Connect roundtable hosted by Daniel Zeichner MP
Cell and Gene therapies are a transformative new generation of treatments that are set to revolutionise the way we think about and treat disease. Cell and Gene therapies use the body's own cells or genes to target the cause of disease. This is different to current drugs which often target the symptoms of a disease. Cell and Gene therapies can have much longer effects than traditional treatments.  The UK is home to world leading research and manufacturing capabilities for Cell and Gene therapies.
On Wednesday 28th July 2021, Daniel Zeichner, MP for Cambridge, hosted a Policy Connect roundtable to raise awareness among policy makers of the barriers and opportunities associated with these new treatments. 
Speakers included: 
Prof Emma Morris, Professor of Clinical Cell and Gene Therapy at UCL
Fiona Marley, Head of Highly Specialised Commissioning at NHS England and NHS Improvement
Dr Jacqueline Barry, Chief Clinical Officer at the Cell and Gene therapy Catapult
Sian Laidouni, a patient representative
A group of seven Parliamentarians were joined by a wide range of stakeholders including charities, academics, life sciences industry figures, clinicians and wider health care professionals.
Daniel Zeichner opened the session with data from recent Policy Connect and You Gov polling that showed that only 15% of MPs had a good understanding of cell and gene treatments.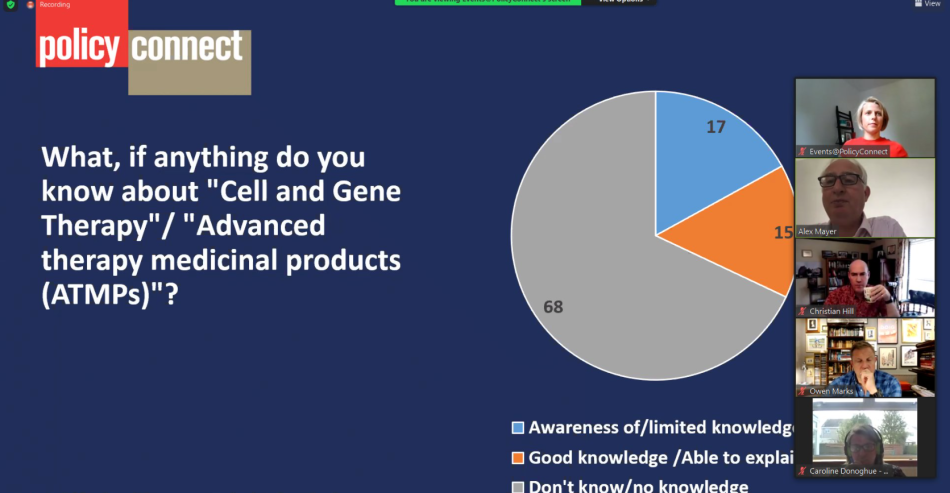 Read more in the full event write up.