Is technology the answer to climate change?
With climate change at the forefront of the global public agenda, there has never been a more important time to assess and embrace the role of  technologies in tackling this critical issue.
This is where WIPO GREEN comes in, hot off its most recent success, an exhibition showcasing innovative green tech solutions for Africa at COP22 in Marrakesh. An online multi-stakeholder green tech platform and network, WIPO GREEN has grown steadily over the last few years, the increasing number of Partners (currently 70+) and database technologies and needs (currently 2200+) a sign of the expanding need for and awareness of climate smart technologies.
In December 2016 we were WIPO GREEN's ambassadors at a luncheon with Rebecca Pow MP, co-chair of the All Party Parliamentary Group on Climate Change, in the lovely dining rooms of the Houses of Parliament in London. The aim of the lunch was to discuss how government and business can leverage the potential of green technology for a variety of development goals. Also in attendance were several innovative clean tech companies, WIPO GREEN Partners Engineers without Borders and Ecomachines Ventures, as well as the editor of BusinessGreen.
In our presentation to luncheon participants, we highlighted the link between the goals of the landmark Paris Agreement and the service WIPO GREEN offers – an environment catering to the transfer of green technologies across the globe. The Paris Agreement, which entered into force on November 4, 2016, has so far been signed by countries that account for over 55 percent of global greenhouse gas emissions. UNFCCC Executive Secretary Patricia Espinosa heralded the Agreement as "an extraordinary political achievement which has opened the door to a fundamental shift in the way the world sees, prepares for and acts on climate change through stronger action at all levels of government, business, investment and civil society." It highlights the critical role of innovation in addressing climate change, in particular the importance of collaborative approaches – like WIPO GREEN.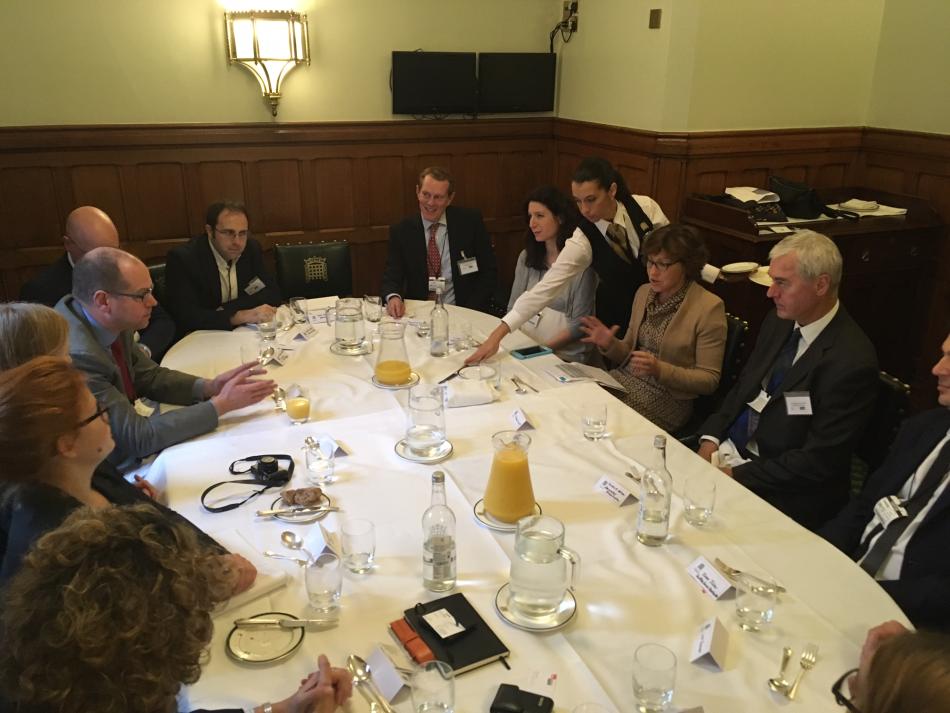 The luncheon guests were certainly qualified to offer their input on the theme of how the UK and the world can best leverage the potential of green technologies. Gillian Harrison of Whitefox Technologies, sells highly efficient ethanol extraction technology that limits the consumption of energy. She shared her thoughts on the difficulties of entering new markets with green technologies, both in the UK and the world. In many cases the public is generally skeptical about the speed of deployment and comparative efficacy of anything green, and often companies are extremely reticent to incorporate a technology that has no proven record of success in similar settings.
The guests also discussed a key "pull" factor in the deployment of green technologies for large scale companies – an interest in leaving a different type of legacy through their work. Mr. Robert Spencer, from AECOM consulting, mentioned the oil and gas sectors as examples of sectors with business continuity interests in climate smart technologies. Options such as big firms investing in local green entrepreneurs present exciting opportunities and would create a need for green companies to supply both products and training to build capacity.
Inevitably, the question of intellectual property (IP) as an obstacle to technology transfer came up – in this case, it was raised by Lord Teverson, Chairman of the Lord's EU Energy and Environment Sub-Committee. Although IP is often considered a barrier to access, WIPO as a whole, and WIPO GREEN in particular, seek to place it rationally as a tool to be used/ or not used in context. In many cases, IP can be the catalyst for investment, collaboration and structured technology transfer.
Overall, the lunch was a successful event which enabled all to learn more about the issues facing British green industry and simultaneously, industry to be informed of the potential benefits from partnering and utilizing a platform such as WIPO GREEN – a platform which lists green tech needs from around the world, green technologies in a broad range of sectors, expertise in business collaboration sectors, and knowledge sharing opportunities from Partners. Increased recognition of the value of the collaborative approaches highlighted in the Paris Agreement – such as WIPO GREEN and, indeed, the APPCCG – will help us all contribute to the push for a more climate friendly world.  
More about WIPO GREEN:
WIPO GREEN is an interactive marketplace run by the United Nations' World Intellectual Property Organization (WIPO) that promotes innovation and diffusion of green technologies. It does this by connecting technology and service providers as well as other facilitators with those seeking innovative solutions – through both the WIPO GREEN Database and the WIPO GREEN Network. The online database features over 2000 green technology and service solutions from all around the world, as well as those seeking green tech solutions. The Network brings together experts, training opportunities, and other resources to help platform users commercialize technologies and complete deals. Please visit our website www.wipo.int/green for more information